10 Top Fashion Model Magazines Every Serious Fashion Professional Reads
So, you want to become a fashion model or top photographer and work magazines around the world? Take a number, and get in line. Hundreds of thousands of eager hopefuls want a career in the fashion industry, yet very few actually do their homework. If you're one of those people, I have good news. Preparing for a career in fashion can be as easy as reading fashion model magazines. Yes, seriously. It all begins with refining your research skills. I don't mean to sound too scientific. However for some, a career as a model, working in fashion magazines or other creative fields implies that your work will all be instinct and improvisation. Well, yes and NO. No, being the majority of the time where the outcome is guaranteed to be disastrous. Let's start with the easy stuff, building a list of fashion model magazines and publications to study.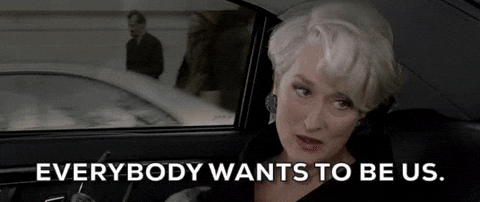 While, you definitely don't have to become one of those stereotypical 'fashion people', you should be just as devoted. In the list below, we'll review 10 top fashion magazines that every creative should study. I know what you're thinking: Vogue and other mainstream fashion mags are are boring. I intentionally omitted indie magazines from the list and instead chose to focus on the big titles. Putting our creative prejudices aside, we all must admit that there's something to learn from creative businesses that work. That's exactly what a successful fashion magazine is. Let's get to it. Keep reading below to see the top 10 fashion model magazines that every serious fashion professional reads.
10. Elle
Elle is one of the best selling fashion magazines in the world. The french born fashion and lifestyle publication was founded in 1945 by Pierre Lazareff and his wife Hélène Gordon. Since its launch, the glossy has built a worldwide reputation with 25 international editions. Elle provides a great view into the world of today's fashion through editorial photography and content.
9. Harper's Bazaar
Meet America's first fashion magazine, Harper's Bazaar. Founded in 1867 by the Harper & Brothers, the title has chronicled over 140 years of American fashion history. Today, the glossy is read around the world boasting 32 international titles. Harper's Bazaar blends conceptual editorial photography with mainstream media and celebrity.  You can find stars like Rihanna, Kim and Kanye, and Lady Gaga on its cover.
8. GQ
Men's fashion model magazines are unicorns in the publishing world. However, GQ has arisen as one of the best, in any genre. Originally launched in 1931 in the United States under the title Apparel Arts, it has grown into a complete media empire. Focusing on topics such as lifestyle, food, and music, GQ lures men of all backgrounds to its fashion content. Almost any mens fashion magazine you see today is inspired by the GQ formula.
7. Numéro
Created in 1998, international fashion magazine Numero has a personal significant for founder Elisabeth Djian. Her motivation? Boredom, eye cream, and men. "I was bored with magazines that told me how to seduce a man. I wanted to create this magazine for an intelligent, smart woman who wants to read about art, design, music: not about stupidity – creams that take away wrinkles, you know, which is stupid." So far, a lot of readers are still agreeing with Djian making Numero one of the most popular fashion magazines in the world. As for what a fashion magazine should be, you'll find great editorial photography and the world's best fashion models in this publication.
6. L'Officiel
French publication L'Officiel offers great lessons in couture fashion, fashion models, and luxury. Created in 1921 by Max Brunhes, the title appeals to readers craving the extravagant. With a roster of supermodels routinely gracing its covers, L'Officiel publishes 32 international editions.
5. CR Fashion Book
CR Fashion book is the only 'new' magazine on our list. Founded in 2012 by iconic fashion editor Carine Roitfeld, the title was destined for greatness. Focusing on highly conceptual editorial photography and beauty, CR Fashion book is becoming a cult classic. The fashion model magazine boasts some serious star power as well. Recent cover stars include names like Beyonce, Kim Kardashian, Joan Smalls, Gigi Hadid, and Lara Stone.
4. V Magazine
When it comes to modern fashion model magazines, V magazine leads the pack. Created in 1999, the American fashion magazine provocatively blends fashion, music, film, and art. In its pages, you can find the most the most influential entertainers and artists in the world. However, this is no gossip zine. It's sexy, edgy editorial photography. Famous names appearing in V include the likes of Lady Gaga, Britney Spears, Beyonce, Rihanna, and Nicki Minaj.
3. W Magazine
Created in 1971 by James Brady (who also created WWD), it's no surprise that W magazine is on top. Though, today it's ran by Conde Nast. With a readership of almost half a million, W Magazine is certainly commercially successful. However, this hasn't stopped the magazine from sticking to its artistic, editorial roots. Choosing to focus on supermodels, entertainers, and the fashion elite, it's an insider's guide into the fashion community. On the cover, you can find faces like Naomi Campbell, Kate Moss, Rihanna, Donatella Versace, and Jennifer Lopez.
2. I-D Magazine
For those looking for popular fashion model magazines with authentic, indie appeal, I-D magazine delivers. Founded in 1980 by Terry Jones, the British publication became an instant trendsetter. Unlike other big magazines, I-D maintains its niche, almost cultish appeal. Know for its innovative editorial fashion photography, it is somewhat of a private club for the world's most promising creatives. On it's cover you'll find supermodels, fashion designers, and entertainers. Names like Kanye West, Raf Simons, Rihanna, and Rick Owens are just a few of its very famous names.
1. Vogue
Vogue isn't number one on our fashion model magazines list for the reasons you may think. Frankly, it's not the most innovative, creative, or inspiring. However, the Vogue name has something that everyone fashion professional in the world is chasing. It's an unexplained je ne sais pas, the French would call it. What is this something that we all want? Debuting as a weekly newspaper in 1892, founder Arthur Turnure had big dreams for Vogue. Longing to create a publication that focuses on "the ceremonial side of life", he found his audience in the upper class, New York elite. While Vogue has undergone quite a few changes over the decades, Turnure's aspirational aesthetic remains well in-tact. Everyone dreams of being on the cover of Vogue and for hundreds of top models and entertainers, these dreams have come true. Notable Vogue cover stars include the likes of Lady Gaga, Beyonce, Rihanna, Kate Moss, Michelle Obama, Taylor Swift, and Adele. Conde Nast art director and Vogue editor in chief, Anna Wintour, says its best, "To be in 'Vogue' has to mean something. It's an endorsement. It's a validation."